31 January, 2013
Sponsored Post
Along the way of my travels, I certainly intend to buy up on a lot of clothes. Mostly because a lot of the fashion I love comes from the US and with postage continuing to rise, it's going to work out SO much cheaper over there than it would here. There are a few key pieces that I really want to pick up while I'm over there and whatever else I end up buying will just be the cherry on top.
The first is some of the new Spring collection from
Pinup Girl Clothing
. It will be Spring when I am over there so I sincerely hope that these are available as they are DIVINE! I love that the collection is so vintage-inspired. I cannot wait to snap up some of these babies! Look how beautiful they are!!
And what's a beautiful dress without the right foundation garments to go underneath it? I'm really looking forward to getting fitted up for my very own piece of
Rago Shapewear
. Said to be one of the best on the market, and enjoying a lovely vintage look about it, I'm after this all-in-one body briefer. I'd really like to get the black because I think it looks that little bit sexier but the flesh colour is far more practical for going under everything. Maybe I'll splurge and get one of each!
Another thing I very much want to pick up are some more pairs of cowboy boots. Something really beautiful and special. I'll be keeping my eyes out in all kinds of places including Vegas, Mexico and LA. I'm not too fussed whether they're vintage or not, I just want something colourful, beautiful, unique and of course comfortable. I'm LOVING these amazing boots from
Sheplers
.
One of the other things I'm REALLY hanging out to get is some nice jackets. First on the list and the one I want the most is a really nice leather, motorcycle style jacket. Similar to this
Wheels & Dollbaby
one. I just love the crossover and the zips. Something like this that's really warm, really well tailored and with buttery soft leather. Mmm mmm!
I'm also a total sucker for a good trench coat. I love the white trim and this style from
SwishLife
, although it's from the UK. They definitely know a good trench when they see one. Still, I'm hoping to find something along the lines of this style when I'm over in the states. I'm sure I will.
Incidentally, you can get FREE worldwide postage from SwishLife at the moment on all orders over
£
50 if you use the code SWISHWORLD. But if nothing on there floats your boat, check out all the other great
fashion netvouchercodes and discounts available here
. Just because you can't afford to go gallavanting around the world doesn't mean you can't still shop yourself silly!
So what do you think? Should I just purchase the extra baggage allowance now?
30 January, 2013
Well the last few days have certainly been interesting ones. I've been stuck out at Jimboomba (semi-rural bush for those of you playing at home) since Friday night. Well I suppose I wasn't 'stuck' on Friday night. I was there by choice. But by Saturday evening there was no going anywhere. The weather was miserable. Severe. It was the aftermath of a cyclone afterall! I had been staying out at a friend's property, helping to look after the place and their dog while they attended a funeral up in Gladstone. They only JUST got back on Saturday and it was pretty touch and go. But we're lucky they did make it back!

Because Sunday morning we lost power. And as they live on a property, they run on water tanks. Which pump the water for use into the house. A pump which runs on electricity. As did their over, cooktop etc. So we survived with a gas, two burner camp stove. And buckets of water harvested from the water tanks. While the rain was still pouring down it was easy to catch the water coming out of the overflow valve but after the rain died down, the men cobbled together a rather interesting but ingenious plumbing system that made it easier to syphon water from the tanks while staying under the protection of the back awning.

Sunday wasn't so bad. The boys were in the shed working on a hot rod. Us girls stayed inside and read our books for a bit. We'd also planned on having a cocktail night that night so we were well stocked with alcohol and nibblies. TOO well stocked some might say. I was certainly saying so on Monday morning with a raging hangover. The storm raged on outside and we had a great time inside, mixing up concoctions by candle light. It was a very fun night and we had almost completely forgotten about the storm and the fact that we had no power.

However come Monday we were running low on supplies and our phones were dying one by one. No internet. No TV. No phones. No way of knowing what was going on in the outside world. It certainly was interesting. By about midday Monday we attempted to leave but we couldn't find a way out that wasn't closed or flooded. So back to the house we went for another night of candle light and bucket water. We had a pretty early night that night, with not much left to entertain ourselves with. I was certainly craving a proper shower and was missing not having contact with anyone. Particularly as I knew there were a few friends and family that were worried and trying to get in contact with me.

It wasn't until mid-morning on Tuesday that we managed to make our way out of Jimboomba and not a moment too soon as the latest reports are that it is now completely cut off. We had to drive through a bit of water to get out and I was a bit scared, as I've never done anything like that before and was worried about my poor little Suzuki. But we made it! And I got home and had the best shower I've had in a loooong time. I turned on the news to find out what was happening with the rest of the state, charged my phone and returned all the worried messages and missed calls to let everyone know I was home safe and sound.

And today, I'm back at work. Getting on with life as normal. It's a bit strange though. Watching the news and seeing so much of the state declared as a disaster zone. Especially when the weather is now so hot and sunny. It's very surreal. But thankfully, as far as I know all my friends and loved ones have been lucky enough to be spared.

But my heart goes out to all those so severely affected by this natural disaster. Those who've lost everything. Especially those who've lost everything, AGAIN for the second time in as many years. Your strength to soldier on in the face of such adversity is inspirational. The death toll stands at 4 currently, including a little 3 year old boy. It's so sad. My thoughts are with everyone dealing with this tragedy.
Are you safe and sound? Have you lived through a natural disaster before?
25 January, 2013
Well it seems this blog has been a little controversial this week and in general lately, has been straying more and more into my philosophies on life and less on the fun side of fashion, beauty and all that jazz. So today I thought I'd do a quick little wrap up of some of my ensembles this week and a couple of new purchases. Now if you follow me on Instagram, you might have already seen some of these so bare with me.
First up we have today's outfit. I'm enjoying this slightly cooler and rainy weather for the chance to bust out some different pieces in my warbrobe for a change. With summer having been so hot this year, I haven't had the chance to wear much else other than little summery dresses. Which isn't neccessarily a bad thing but it's fun to mix things up for a change.
Next we have the outfit I wore to my self/girlie date on Wednesday. I decided to take myself to the movies first and then I met up with my beautiful Elisse for a catch up and some dinner. It was a hot and humid day so this outfit kept me cool and comfortable and transitioned well into a casual dinner.
These are my new PJs for over in the US. I just felt like having something nice to wear, even if I won't be in it for all that long and will be unconcious for most of it. Hah. But there's something about knowing you're going to be in a fancy hotel in Las Vegas that just makes you want to be grand. Hence the robe. I think it will be great to swan around in when I'm getting ready. Just to get me in the mood.
And then there's THIS beauty. A custom creation on its way to me and intended for wear to Frankie's Tiki Party in Vegas. I actually surprised myself a little with this one. Its colours are not something that I'd normally wear but for some reason, this fabric just stood out to me and I just HAD to have it. It's so pretty and unique.
Last but not least is this little vintage day dress I'm picking up from my dear friend Karen next week. It's cute, affordable and looks like it will be comfy. But the thing that attracted me to it the most is that it looks like a Mexican blanket. I'm just a sucker for that kinda stuff. Looking forward to wearing this one, I'll dress it up with some heels and dress it down with some cowboy boots when I feel like it.
So what do you think? Have you picked up anything exciting lately?
21 January, 2013
I'm the one with the spotty bag - oh so young, oh so long ago!
Pageants. Competitions. Call them what you will. They're not something that I generally agree with. I did one once a long time ago but these days they're just not something I think is neccessary.There's plenty of them floating around, especially in the Rockabilly and Kustom Kulture scene. It seems no major event gets by without its very own 'pin up competition' and then there are the ones run independently of events and aren't attached to or affiliated with anything. Their sole purpose is to be a pin up competition.
In my personal opinion, I think they encourage the wrong kind of attitude and state of mind. Women often feel a sense of 'competition' between themselves to wear the prettiest dress, have the best hair do or the most desirable body shape. To reinforce this in the way of a formal competition sends the wrong message I think. There are a number of 'competitions' out there who seem to promote a very inclusive, friendly and supportive culture which I do think is excellent but I also think that by and large, we could probably do without it.
However, that's a whole other blog post in itself.
I recently became aware of a pin up type competition that focused more on the tattoos of those involved. As this would be judged on the merits, skill and artistry of the ink that adorns the participants skin I felt more at ease with the concept and requested some information on the contest. Sifting through the literature I was pleased to see that all shapes and sizes were actively encouraged to enter, including a reminder that some of the best 40s and 50s pin ups were a modern size 14. However, I was shocked when I reached the end of the information to learn that it would cost $50 to register, with no gaurantee of acceptance.
Now I realise there are costs involved with running something like this and that not all prizes can be covered by sponsors but to charge that amount simply to register your interest I think is completely wrong. Perhaps that fee could come into play if you were actually accepted into the competition but to pay that up front for potentially no result seems a little off to me. I mean, imagine how many ladies might want to enter. There could be hundreds. And if only 10 are picked to make it into the actual contest on the day...well you can do the math.
I don't know. Maybe this is common practice now. Maybe this is deemed acceptable. No doubt there will be some girls out there who will be willing to part with their cash for a chance to be a part of the contest.
But not me. Not on your life. $50 just for the chance to be involved? Nuh uh.
Would you pay the fee? Do you think this practice is fair?
18 January, 2013
Do you ever get the feeling that sometimes the universe is trying to tell you something? Like coincidences that are just way too well-timed to be an accident? A funny feeling that something is more significant than you realise, even if you don't know why? Some people think it's reading too much into things but I've learnt that these 'patterns' aren't just a random occurance. Whether directed by some unseen force or just picked up on by your brain as a focus, take note of these signs and really listen to what they are trying to tell you because you're often noticing these things for a reason. Because you need to see or understand something.
Take for instance, yesterday. The universe was bashing me over the head with a message of self love. In fact, had I not sat up and taken notice I fear a stomache bug of biblical proportions may have been waiting for me around the corner. NOW DO YOU WANT TO LOSE WEIGHT? HUH? HUH? You see since Christmas and the holiday period, like most of us, I have put on a little bit of weight. Considering in the last few months I'd been trying so hard to lose it, I was feeling quite disheartened by it all and desperate to be rid of it as quickly as it had come. (Yeah right, we wish!)
Graphic by Suger Coat It
There were a couple of days last week where I actually couldn't even look at myself in the mirror in my underwear because I knew what I would see would upset me so. Now, I knew this was a passing phase and that I would feel better about myself once I got back on track so I'm not silly enough to think avoiding the mirror is a solution but I certainly didn't want to add to the already bad feelings I had. Instead I threw myself into a week of fresh fruit, vegetables and a small amount of meat for protein and not much else. Not a bad thing, not only am I feeling better and looking a little better but it's also done wonders for my skin.
However in saying that, I'm still not rid of all the extra weight and had been feeling quite self-concious about it. And so yesterday, it was like the universe was saying 'ok lady, you've had you're little pity party but that's enough now. Pull your socks up, get over it and start feeling your happy, confident self again'. Through a series of 'messages' from a perfect stranger, a good friend and an idol I got the kick in the pants I needed. It was a total wake up call and I realised I needed to love myself, not just when I was in good shape but ALL THE TIME! They say true love isn't loving someone at their best but at their worst and that goes the same for yourself. Doubly so even.
Sophie from Melbourne
It began with
this
fantastic message from a young Melbourne girl. Her humourous take on the situation made her point seem even more powerful and the issue more ridiculous. Then
this post
from Suger, her 'tell it like it is' attitude mixed with her good natured wit and real personal experience bringing it home. Finally, it was these images of Bernie Dexter that really inspired me, made my heart soar and realise that it's ok. It's ok to put on a little weight. If you don't want to keep it then you can work to lose it again but it doesn't make you any less of a person, any less worthy of love from others or yourself. You loved yourself enough to allow yourself the pleasure of putting on the weight, so love yourself enough not to beat yourself up over it and love yourself enough to keep yourself healthy, if that means losing it again. Just. Love. Yourself.
Bernie is an incredibly successful pin up model, fashion designer, make up artist and all round glamour girl. She is absolutely stunning and has a wonderful personality to boot. She's a petite little thing and has unfortunately been suffering from some health problems lately. She admitted to putting on 12 pounds while she recovered from surgery but released photos from a photoshoot she did yesterday anyway. It's so easy to only allow the world to see the best of us and filter the rest from view but Bernie's bravery in sharing those images (even thought she still looks completely amazing) was not only an inspiration to me, it was a loud and clear message. Even though she still has a bangin body, you can see a bit of a difference when you compare the above picture with the below picture from a little while ago. Still, I have no doubt what she did would have done a lot for all of the women who follow her.
So to Sophie, Suger and Bernie I say thank you. For being an inspiration. For sending the right message and for helping me see the signs I needed to love myself again.
Please, look for the signs and love yourself. It's ok. No matter what, you are worth it. Always.
17 January, 2013
I'm looking after a friend's place at the moment and where they live is a bit out in the bush. It's only about 30 minutes from main suburban areas, but it's far enough that when you're out there you feel like you're way out in the country. So far out in fact that I can't get mobile or internet reception.
One night here and there ain't so bad. I tell myself it's good to take a break from all that online, social media overstimulation. I can hear the sound of bird calls and rustling in the bushes that I tell myself is just a roo. It's good I say. A chance to REALLY relax. And it is. I can feel the difference.

But after a few days in a row of next to no reception and no contact with 'the outside world', no posting to Instagram, no check in on Facebook, no real idea of what is going on in my online life, I start to feel like I am missing out. Like I am going to miss something important.

Afterall, how many people do you know have announced big things like an engagement, break up or even that they're expecting online? It's certainly an easier way to distribute information among the vast majority of your friends. But I find it funny, this feeling of reliance on something so...trivial.

I mean, I've still had internet access at work. I've still be checking in and staying up to date with everything all day there. It seems silly to feel this way just because, for 12 hours of the night, I'm unable to stay connected. I'm sure I'll get over it. I'm sure it'll be good for me.

But it got me to thinking. The irony of it all. Someone who's lifestyle and fashion sense is so influenced by the past. To be having such a modern problem. To feel this way about something that wouldn't even have existed 50, 60 years ago. Perhaps I'll just think of it as 'living in the 50s' to the extreme? But I guess that doesn't quite count on account of the big screen TV, huh.

Have you ever 'unplugged' before? How long did you last?
15 January, 2013
If you follow me on Instagram, you would have seen your feed flooded by my shameless selfies on Sunday. Now I can't say too much just yet, but it was a photoshoot for an exciting new project Stars & Swallows have coming up.

Alls I can say for now is that it was a very fun and enjoyable day despite the heat and that I got to play dress ups with lots of lovely clothes surrounded by the gorgeous Mimsy, Hayley and Tracey. Can't wait to see the results! Hair and make up was by the amazing Misha (she's worked on Megan Gale you know!) and photography was by the ever-patient Matt Black (who you might remember from TCB Magazine fame).

But enough of the rambling...onto the sneak peeks!


Mine was pretty amazing too










Check out these cuties
Hard to go wrong with some voluptuous leopard fur


Mimsy workin it
Just chillin at the bar
I won't be able to reveal all for a little while yet but I'll be sure to let you know as soon as I can! I can't wait to see the final results! We had such great hair and make up, clothes, sets, direction and photographer to work with I just know the finished product will rock!
14 January, 2013
Without stepping on the toes of the incomparable
Movie Minx
, I saw The Wrestler for the first time on the weekend and felt the need to discuss. Considering it was only made in 2008, I'm actually surprised I haven't seen this before. Expecially because it stars Mickey Rourke. Although this is post-plastic surgery Mickey Rourke which is a little disappointing as I initially spent most of my time thinking 'look at his face', 'why would he do that' and 'look at his face' sigh.
The story is a little cliche, but still very endearing and a little sad. I also have a soft spot for Mickey Rourke which helps. It basically tells the story of ageing pro wrestler, Randy 'The Ram' Robinson (Rourke) and his struggle to relate to the real world outside of the ring. Despite his once legendary status, his age is catching up with him and so too the younger competition. Living the hard life, he seems a somewhat lonely man except for his deep love for the sport of wrestling. Having alienated most of the people in his life that he cares about, he attempts to forge a relationship with ageing stripper Cassidy played by Marisa Tomei who was a bit of a surprise but a great character (and what a body!).
The movie actually opened my eyes to just how brutal the world of wrestling is, despite looking like a scripted parody of boys pretending to bludgeon each other. I've never really been into the theatre of pro wrestling but I certainly came to appreciate what they put themselves through, all in the name of entertainment. Randy is a fuck up, but he's a loveable one and although he is often failing, he is still always trying. With his health failing, he attempts and fails at repairing some of his closest relationships which is sad, but his chipper attitude to working behind a deli counter for an asshole boss despite his once great status is completely endearing.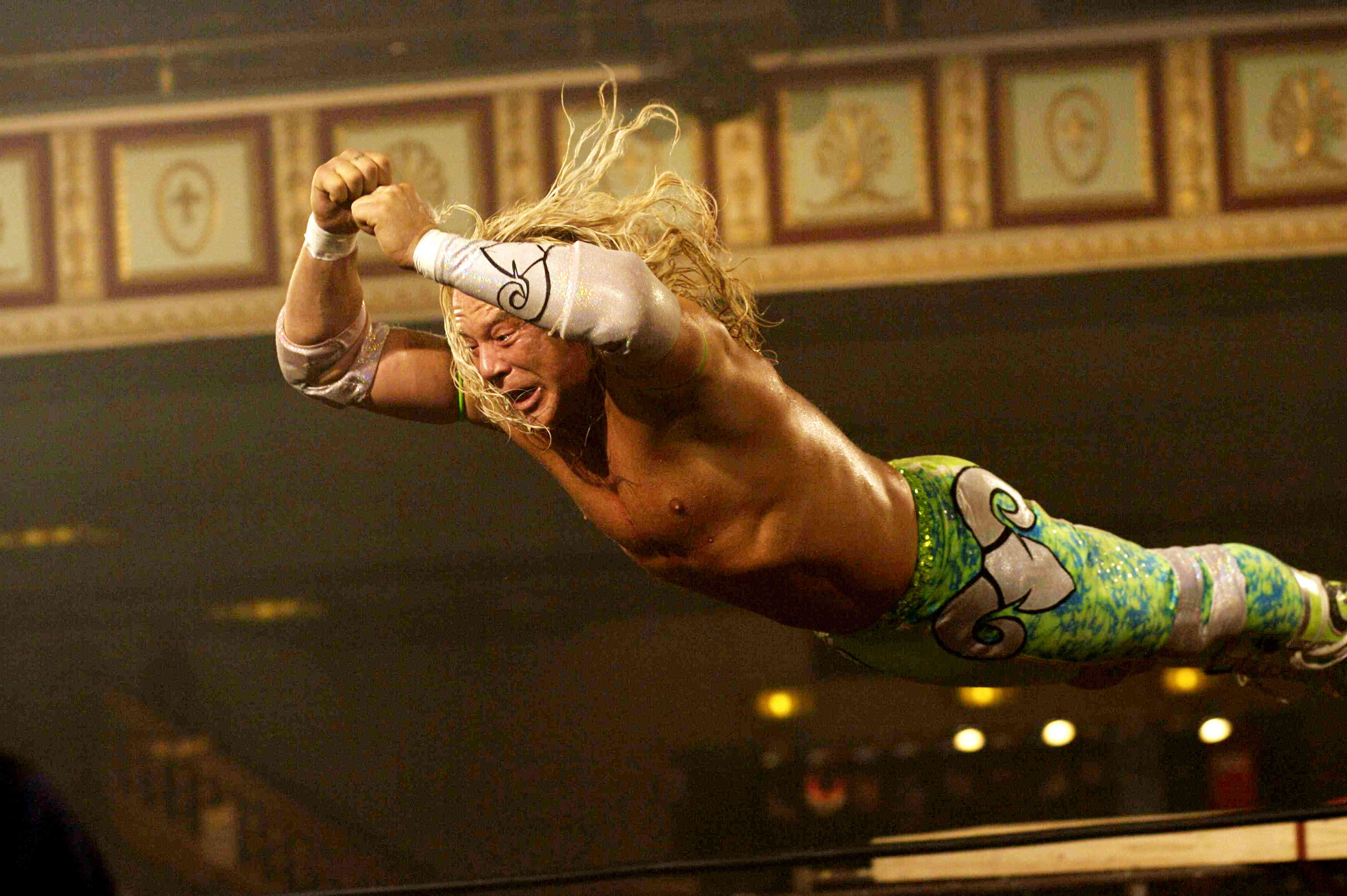 I really enjoyed the movie and thought it put across some great messages about self-love, selfishness, passion, drive, motivation, human understanding and about leaving things too late. I was however pretty frustrated by the ending. It built up to a really great, heartwarming/wrenching climax but then just left you hanging, with no real resolution and not even a clear understanding of what actually happened. I suppose it allows you to 'choose your own ending' whether it be happy or sad but to be honest I found it quite annoying. I had fallen in love with this character and his story and they just...left me hanging. Not cool Mr Siegel.
Other than that though, I really enjoyed it for an easy to watch and emotive movie with plenty of good humour. I give it a 7/10 because I really enjoyed it, it only lost points for being slightly cliche.
All in all, a good watch without having to think too hard but still feel something.
10 January, 2013
The other day, these words and the familiar sound of Johnny Cash's steady as a train, dry as the desert voice just popped into my head. Completely out of nowhere. I hadn't heard the music, the song, not even any of the single words. I really have no idea why they popped into my head. But they did.

And for some reason they really spoke to me. On a deep level. And I thought yes. That is exactly what I'm going to do. Break my rusty cage and run. Get past all those same old things that hold me back, keep me captive in the deepest corners of my mind, and just go for it. Full steam ahead. Just like that big ole train Johnny sings about.

The words, the thoughts, wouldn't let me rest. They just kept swirling around in my mind. At work, when I was trying to write about Tasmanian wildlife. I just couldn't stop thinking about it, hearing the sound of those words in my head. So I went on YouTube and listened to the song. Not enough. I realised I didn't even know all the words. Mainly just the chorus. Those words. So I started Googling.

The rest of the words are actually pretty dark. Literally tortured. I wondered what they meant. Kept Googling. Couldn't find one. But then I realised, songs don't really have a meaning. They mean nothing and everything. Everyone always finds their own meaning hidden between the lyrics and the melody, the rhythm and the arrangement. The big surprise was finding out it was actually a Soundgarden song.

I like Soundgarden and have always been a big fan of Johnny Cash but I had never realised the song was originally written by Chris Cornell for Soundgarden. It just sounded so much like a Johnny song. I guess I'd never really thought about it. Isn't it funny. You think you know something. For years. You never even think to question it. But an instant of bothering to look at it differently, really think about it and suddenly you have discovered something new. Suddenly you are wrong.
Nothing wrong with being wrong. It means you can now be right.
Break your rusty cage.
And run.
08 January, 2013
My two weeks off were filled with plenty of relaxation, reading and movies but I also got up to a fair few fun things too. Here's a quick recap of some of my favourite bits.
Christmas
My first Christmas spent with my mum in years. Relaxed, yummy, fun, great presents all round, excitement for my upcoming US holiday and her round the world cruise and spending quality time with my Nanna. Such a great day!
Xmas Aftermath
Spending my Christmas Myer vouchers on Benefit skincare (my skin has never looked so good!), getting a pedi, relaxing, wondering around the shops, eating frozen yoghurt and fruit and unexpectedly running into friends. Simple bliss.

Music Discovery
Went to a gig at my fave local venue and discovered an awesome new band. Did something on my own, hung out with some different people and has a slightly strange feeling but very enjoyable night. Mikelangelo and the Tin Star were a very fun and interesting western surf band influenced by The Cramps and swampy jungle voodoo music. The frontman himself is like the bastard lovechild of Elvis and James Bond with a little Nick Cave thrown in. Great music and a WILD show.
Gig
Lori Lee's end of year rockabilly party was a fun, relaxed gig with some of Brissie's best muso's and a chance to catch up with lots of friends. A great way to fill the lull between Chrissie and New Years, it was a surprisingly low key gig but a really nice way to chill out, enjoy a few drinks and dances and see a bunch of friends over the holiday period.
New Year's Eve
Crazy! Awesome! Fun! Another fantastic New Year's just like last year with the return of the Hill's Hukilau. Dressed in our hawaiian-themed best we ate and drank in the New Year in the very best of company including a very fun unplugged sing along set with Mitchy Mayhem and Geoff Townsley, the countdown and of course the midnight celebration with lots of love. The big pool with water slide and the adult jumping castle got a great work out and the epic water war continued well into New Year's Day. I had an absolute blast, hands down the best way to see in the New Year and despite having plenty of drinks throughout the night it was the first New Year's day I've woken without a hangover for a very long time!
Tiki Shak
My very last weekend of holidays was spent out at Krash's tiki shak drinking, eating lots of great food and enjoying the fantastic company of The Man, Vicki and Dani. Oh yeah, and contributing more to the artwork on the walls. Dani is a talented tiki mug maker so we took her out to meet Krash the tiki carver and while we were kicking around in the sand, we painted a big section of wall with a colourful sunset and mermaid. Surrounded by bush, the property is so relaxing. It was the perfect way to finish up my holidays!
So there you have it, that's what I was doing while this place was so quiet. Totally refreshed and re-inspired now and SO ready to write!
Did you get up to much on your holidays or were they pretty low key like mine?
07 January, 2013
This pretty much sums up my holidays...anyone else think those legs look awfully bare and in need of tattoos?
So today I am back to work from 2 weeks holidays. Back to blogging after 2 weeks of quiet. It feels great actually. Sure, it was a bit of a struggle getting up this morning after 2 whole weeks of sleep ins but I had a fantastic break and am feeling so relaxed, refreshed and re-inspired!

I am so excited about this year! There is so much great stuff happening and I have a feeling that there's even more awesomeness awaiting me that I don't even know about yet. I feel completely re-energised about life. Yay! New years are good for that kind of thing, don't you think? Everything feels fresh, it's like a new chance to create the life you want to be living.

I've steered away from resolutions this year. Well, sort of. I rarely make 'New Years Resolutions' but I am always thinking about what I can do change and improve my life. I don't think you need to wait for a new year to roll around to do it either. Whenever you feel ready, just make a change! Whether you want to be healthier, save more, be more patient, stand up for yourself, try something new, do something crazy, be spontaneous – whatever it is, just do it. Life's too short to wait!

I hope you all had a wonderful holiday period no matter how short. Heck, you might even still be on holidays and good for you! I hope you all had a great time relaxing, doing things you've been wanting to do and re-connecting with friends and family. I know I did! I didn't get up to anything too exciting, I just enjoyed having some time to rest and relax. I was really needing it at the end of last year. So I spent time catching up on reading, movies and lazy lunch dates with friends. Pretty much holiday perfection in my opinion.

And speaking of holidays…have you seen the latest addition to the side bar over there?? Yep, now I'm REALLY counting down to the USA! I have to be honest and say I was tempted to do this as soon as I had bought my flights! But as excited as I was, it really would have been too soon. BUT now it's THIS YEAR!!! 73 days away to be exact. Excuse me while I say ERMAHGERD!! I am SO excited. Every time I drive past the airport exit on the freeway, my heart beats a little faster. It will be here before I know it. In 73 days, I will enjoy the best 4 weeks of my entire life and I will never be the same again. Literally a dream come true. I absolutely cannot wait to share it all with you!!

Anyway, enough of that for now. No doubt you'll be hearing much more about it in the coming months and I don't want to bore you to death with it before I even get there. So there you have it, my little holiday wrap up. I'm feeling good and looking forward to sharing lots with you this year. Starting tomorrow with some of the highlights of my break including Christmas, gigs, an adult jumping castle, water fights and a kick ass tiki shack complete with sand floor.
So until tomorrow, tell me what did you get up to over the holidays? Are you ready for 2013?