18 April, 2012
Some very exciting things have been discussed and decided on around these parts. Over Easter it was decided. I've been busting to say something about it since. I was going to wait until plans were a little more concrete but I'm too excited! I just want to say something about it, I'm busting over here!

Next year I will be attending Viva Las Vegas!!!
Viva Las Vegas is THE biggest rockabilly festival in the WORLD held over the Easter long weekend in the bright light city at The Orleans Hotel. The Viva Las Vegas Rockabilly Weekender features four days of non-stop rockabilly and 24 hour vintage shopping (ohmigosh I know!!). The festival offers original 50s acts (Jerry Lee Lewis, Chuck Berry, The Ventures, etc), a legendary car show with more than 700 pre-63 period correct cars and hot rods, more than 50 other music acts, a tiki pool party, burlesque showcase, vintage fashion show, swimsuit contest and much much more.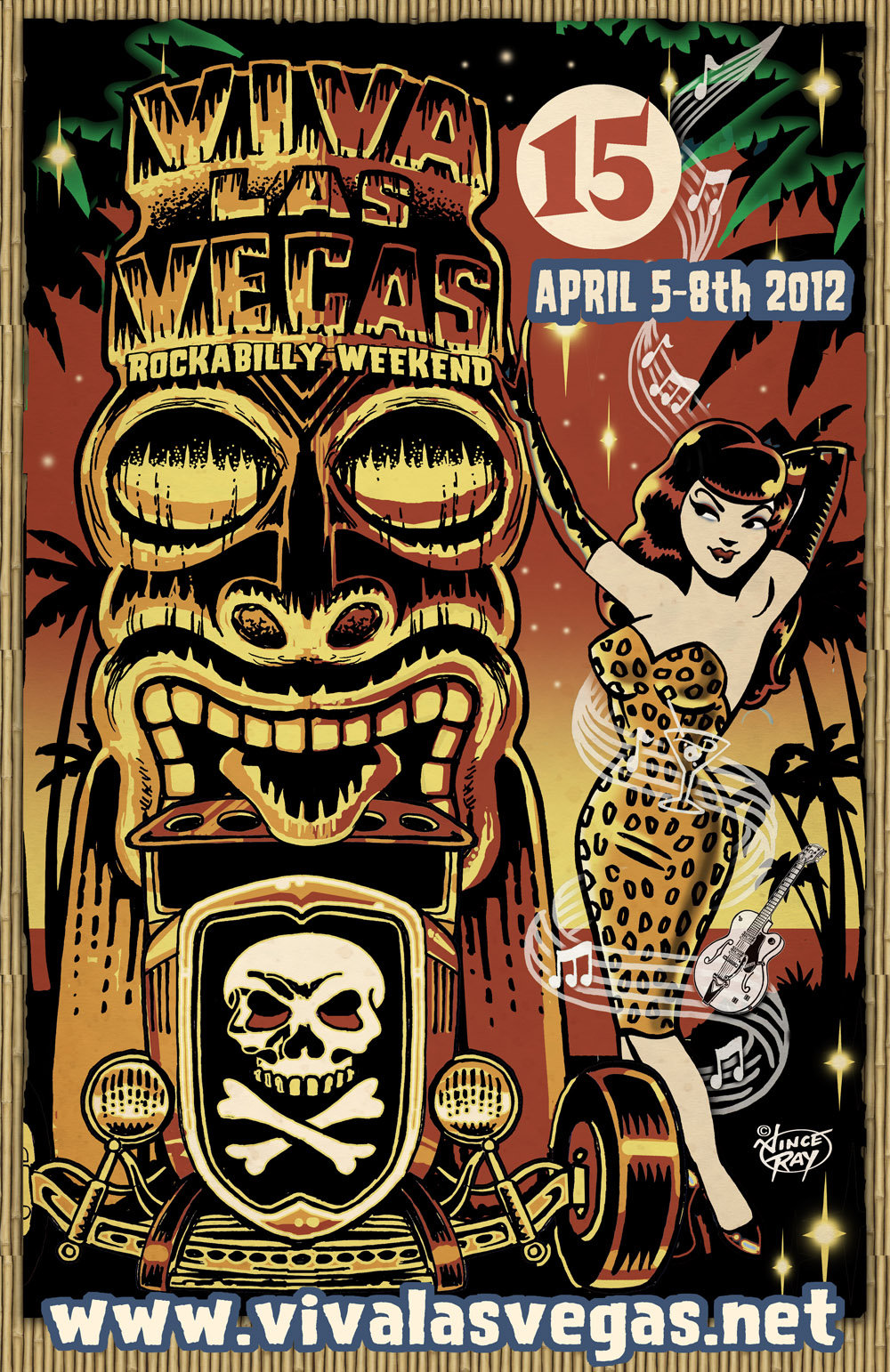 I have wanted to go to this for so many years now and each year I've had to watch all my friends go and hear all their wonderful stories and miss out. But not next year! And you know I don't do things by halves, so I'm not just planning on heading over there for the long weekend…I'm hoping to be over in the US for 2-3 weeks, depending on how dates work out. The annual Lonestar Roundup is also going to be on about that time and if the dates work out next year the way they did this year then the Roundup will be on the weekend after Viva. A western/rockabilly 3-day festival, the Roundup is held in Austin, Texas and from what I hear is also a cracker!
So right now, the very loose plans are to fly into LA, spend a couple of days there checking out Hollywood, Beverly Hills, California etc and of course visiting Universal Studios and Disneyland. Then we'd like to drive down and spend a day and night in Tijuana, Mexico before driving through the Nevada desert into Las Vegas for the Viva Weekender and to visit the Grand Canyon. THEN we want to road trip a few days through Pheonix Arizona, New Mexico, El Paso and into Texas. After the Roundup we'll fly back to LA and then home again. Phew! It's going to be AMAZING!!
You might notice I keep saying 'we'. Well, that's because I'm going with The Man. Yup, I know what you're thinking. Huh? I thought you guys had broken up?? We have, but I told you we're staying besties and we know we would be excellent travel companions and we've kinda both always talking about doing this so we're totally cool with it. Besides, I need someone to protect me from getting my kidney stolen in Mexico! Besides, Mexico kinda has a special meaning for us.
SO this is my USA adventure of awesome. Well, a pretty loose version of it anyway. No doubt more details will come as we book and confirm things. But I'm SO EXCITED! I just can't wait! I've wanted to travel to go to Viva for SO long and I've wanted to travel to The States for even longer. This really is a dream come true and I think it's going to be a bit of an adventure in self-discovery as well. It's going to open up my eyes and ultimately make me a better write too I think. You know, worldly experience and all that.
Best of all, you get to see it all with me! #sheribombinsincity